19/11/2019 — Glasgow was wonderful
"Chorusgirl were flat out amazing and had left a lasting impact on the public of a city miles from home." — Thank you so much to Small Music Scene for the lovely live review of our set in Glasgow! We had a wonderful time in Glasgow; Cloth, Lemon Drink and Last Night From Glasgow made us all feel so welcome
15/09/2019 — Nov support shows in London/Glasgow
Just two more gigs for us for the rest of the year as we're focussing on writing, but we're pleased to announce that we're supporting at these excellent occasions: 
14/08/2019 — If Not Now When Festival and London headline show
Supporting the Wedding Present at their festival At the Edge of the Sea was truly wonderful last weekend –> our next gig weekend will be 13th/14th September: a London headline show at The Finsbury Sep 13th (free entry) and If Not Now When Festival in Oxford on Sep 14th!! 
15/06/2019 — At The Edge of The Sea, supporting The Wedding Present
We've got three shows booked this summer. Our next one will be August 10th, supporting The Wedding Present at At The Edge of the Sea in Brighton. I'm very excited about this one — I love The Wedding Present and the fest will take place at the beautiful Concord 2; every time I've walked along the beach in Brighton, I've peeked through the windows. It's Sold Out too, so will be a great night by the sea.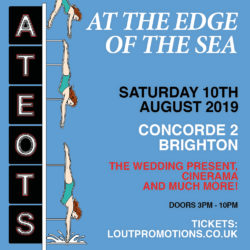 ---
07/04/2019
We're excited to announce that we'll be main support for our label mates LIINES at their LONDON headline show at Thousand Island MAY 30th!!
Liines are currently touring the UK with Sleaford Mods, and we're really happy that we'll be doing a show together. They were so supportive when we became label mates. Tickets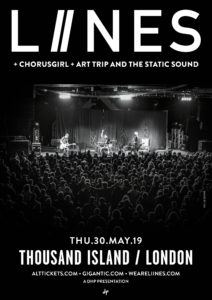 24/02/2019
11/01/19: Germany, here we come!!
04/11/18: Thank you to Steve Lamacq for including us in his BBC6 playlists in such big company this week!!
18/10/18: The video for 'IN DREAMS', our 2nd single from the NEW ALBUM, was premiered by God is in the TV zine as their 'VIDEO OF THE WEEK'!!!
Filmed by animator Ruth Barrett, "The handmade stop-motion video for 'In Dreams' consists of an impressive 2500 manually cut out paper prints".
11/09/18:  First single 'No Goodbye' from the NEW ALBUM is out now!
"A catchy earworm that retains it lyrical secrets until repeated listens, it's a sign that this new Chorusgirl LP will be worth investigating."
Clash Magazine have premiered the first single 'No Goodbye' from our NEW ALBUM 'Shimmer and Spin' out on Reckless Yes on 16th November, 2018!!!
And you can PRE-ORDER THE ALBUM at our Bandcamp
04/08/18: DEBUT LP SOLD OUT now
We've just sold our last copy of the debut LP, and very pleased to say that it has gone to a good home   We're getting ready for the release of album II now…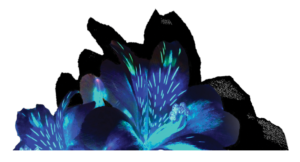 06/06/18: ALBUM PREPARATIONS
We're taking a break from gigging over the summer while Faith is away. But no rest for the wicked, as we're in the process of preparing for our album release later in the year.
We're pretty excited to have started working with fantastic animation and video artist Emily Scaife! You may have already seen the two beautiful videos she did recently for Lost Map band Firestations. If not, check out her work at http://emilyscaife.com
For the result of our collaboration, you're going to have to be patient, but here we are doing our first green screen shoot together…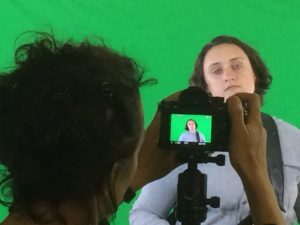 06/05/18: BIG NEWS: We are very excited to announce that we have signed with one of the loveliest indie labels in the UK: RECKLESS YES !!!
Very happy to be joining the likes of Liines, Grawlix and Lorna and more on their expanding roster. Much like Fortuna Pop, Reckless Yes is a community and a family. And we're stoked that they've welcomed us into the fold to release our second album!!!
To celebrate, we're doing a couple of shows up North at the end of May: