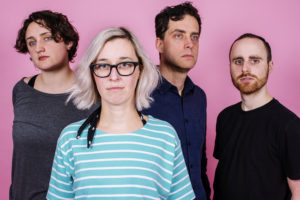 Chorusgirl make noisepop, blending the sounds of Lush, the Cure, The Breeders, Pulp, the Bangles, surf, girl groups, melodies, dirt, jangle and noise into a swirling & shimmering mix that spins your head until you're dizzy. The lyrics are personal, delicate and angry, about losing and giving up, but all of that heartache and anger is layered underneath enough noisy rubble and happy fizz.
The band is Silvi Wersing's brain child and the name references the fact that she spent years being a bassist to others' dreams, until deciding that introverts and chorus girls could and perhaps should front their own shows. She started writing songs, moved on to rhythm guitar and recruited friends to her new London-based venture: Udo Westhoff on bass, Michael Boyle on drums and Faith Taylor on lead guitar.
Chorusgirl played gigs all over London and the UK in 2014/2015; a gig in Hamburg in November 2014 marked the beginning of the band venturing out of their home town. They released a 7" as part of the Odd Box Records 100 Club Series in spring 2015, which sold out within 2 weeks.
After a triumphant Indietracks festival appearance, they were signed by London-based label Fortuna POP! records in the summer of 2015. Fortuna POP! went on to release Chorusgirl's eponymously titled debut album on 13th November 2015 to great critical success. The first single 'Oh, To Be A Defector' was immediately playlisted by BBC Radio6, and the album found itself on many end-of-year lists. 2016 saw the band playing shows all over the UK and abroad in Norway, Spain, the US, Germany, France and Sweden.
2017 will keep them busy as ever with recording a second album and playing lots of shows!
"The London quartet explore universal themes with the catchiest of tunes, thundering rhythms, a wry sense of self and fascinating multi-meaning lyrics." (8/10) 

Sarah Lay, Louder Than War

"Chorusgirl's sound is distinctly London (although, more the London of the 80s than of now) but it's also the sound of escaping London.(…) It's the feeling of sleeping with the bedroom window open for the first time in months and waking up with a fresh wafting across your face." Emma Garland, Noisey
"Chorusgirl pertain to a certain kind of cold, detached dreaminess you'd associate with a label like 4AD in its prime: their overall sound being seemingly informed by Lush's successful hybrid of classic pop, fiery punk and shimmering soundscapes. … Yet, rather than reliving a sound there's a sense here that Chorusgirl are more intent on reinventing it. Look no further than their debut self-titled LP for conviction." (8/10)  Hayley Scott, The Line Of Best Fit

"Full of chunky, guitar-heavy songs, strong melodies, and Wersing's richly commanding vocals, the record is a brilliant fusion of the '90s and 2010s that calls to mind the Breeders and Dum Dum Girls in equal amounts." (4/5) Tim Sendra, Allmusic

"There's no slack on the album – from the starting gate to the finish line, Chorusgirl bristle with static and nerves." …  Chorusgirl are simple, until they're not. You might recognise the distant spirits, the razor chords, the surfy snarls. But where other bands coast on borrowed sound, Wersing bends it to her own life, creating a space that resonates with insight and empathy. Ever felt separate from the human race? Be comforted, for here is your kind." (7/10) Lee Adcock, Drowned in Sound

"This is a record with teeth… one of the most impressive first albums of a year rich in strong debuts." (5/5) Paul Brown, NARC Magazine

"Sparkling with bright rhythms and jangling pop…with hints of something shadier, bittersweet and more potent." London in Stereo
"Lovingly smudged guitars" (7/10) Loud and Quiet

"Blending the shimmering dreaminess of 4AD bands like Lush, the noir pop of The Cure and the bittersweet electricity of The Breeders, the ten songs on the album sparkle with melody and pop nous but are "stealthily subverted by something darker… Chorusgirl are a band to cherish … An impressive keeper of an album by Chorusgirl." (8.4/10) Steve Janes, WithGuitars

"It's one of the best debut albums of the year. It's one of the best pop albums of the year, period." Ben Yung, The Revue (Canada)
"Chorusgirl are a band you'd have to try hard not to love. … This is one of the best albums you will hear all year." (9/10) Richard O'Hagan, Little Indie Blogs

"It's not often that I enjoy every song on a disc, let alone on their first recording, but that's how good Chorusgirl's eponymous effort is. … one of the best, if not the best album I've heard this year. … If you wish to see a great band in a small setting before things blow up, I'd suggest you check your UK listings and catch them live." (10/10) Steve Ricciutti, Soundblab
"Nicht weniger als eine komplett eigene Welt … Dass die Musik und der Sound dabei so treibend, so 1990er-Noisepoppig, so wave-düster, aber auch so warm und übermütig geworden sind und die Songs immer wieder überraschende Haken schlagen, zeigt Silvi Wersings Talent als eine absolut einzigartige Songwriterin." Benjamin Walter, Intro Magazin (Germany)

"Zugleich bestätigen die Damen und Herren von Fortuna Pop! mit diesem Album einmal mehr, wie viel sie von der Entdeckung eines nicht so offensichtlichen Indie-Juwels verstehen." (4.5/6) Thomas Weiland, Musikexpress (Germany)

"La música de Chorusgirl es contagiosamente viva y fluida." Pacopepe Gil, Loff it (Spain)

"Chorusgirl klinkt op hun debuut noisey, maar toch lichtvoetig en tegelijkertijd melodieus, met frisse hooks, het geheel omlijst met een gitzwart randje." George Meijer, Musine.nl (Netherlands)