01/11/2022 — THE ALBUM REVIEWS ARE IN!
"Calling to mind Liz Fraser … Wersing reminds us as what a master she is at creating an atmosphere" (5/5) NARC MAGAZINE, UK 
"A captivating-unsettling fever dream" (7/10) ROLLING STONE, DE 
"A reflective lushly layered nostalgic joy of an album" LOUD WOMEN MAGAZINE, UK
"Pensive and celebratory" AUSTIN TOWN HALL, US
"For fans of: Kim Deal, Jesus & Mary Chain and the Raincoats" VISIONS MAGAZINE, DE
"Self-assured Indiepop queen in DIY mode" GAESTELISTE, DE
"It's a special skill for any artist to approach a serious lyrical subject with such a sense of fun" MOTHS & GIRAFFES, UK
"a record thriving in the face of no longer trying to play the game by anyone's rules but your own" FOR THE RABBITS, UK
"Oscillating somewhere between the spikiness of the Slits, the insidious gaze pop of early Lush and a sprinkle of C86 charm" GOD IS IN THE TV ZINE, UK (Track of the Week)
"Propelled by a shimmering splendour and glistening celestial charm, it's a beautiful slice of jangly dream-pop" GET IN HER EARS, UK (Track of the Day)
And Top Ten in the BYTE FM Charts, Featured and Track of the Day on BYTE FM, and supported by AMAZING RADIO and Mickey Bradley's (The Undertones) BBC show.
——> https://chorusgirl.bandcamp.com/album/colapso-calypso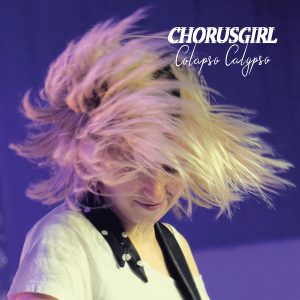 26/10/2022 — Top Ten Baby
Top Ten Baby! I'm #8 in the
Byte FM
charts this week!! 
In wonderful company here too! My friend Saskia, the drummer in excellent punk band
Fehlfarben
, also drummed on Oh To Be A Defector, the very first Chorusgirl single.
14/10/2022 — OUT TODAY: new album COLAPSO CALYPSO
A lot of lovely stuff has already been written & said about this album, but I'm mainly proud of myself for having managed to finish it despite so much turmoil in my life these past 2 years. Thank you
Reckless
Yes
for helping me present it to you today!
Album artwork by:
Silja Ha
ddal Mork
Cover photo by:
Pen and Camera
Album mixed by: Jan-Niklas Jansen (at
Bear Cave St
udio
)
Album mastered by:
Queer Ear Mastering
(ships from both UK & EU, so no surprise customs fees for UK or EU customers)
14/09/2022 — OUT TODAY: IN THE BUSINESS OF DREAMS
The 3rd single & video from my upcoming album Colapso Calypso. The song is a musing on the music & film industry, where dream and nightmare sometimes smoothly blend into one another for an artist or an actor, and how dangerous it is to "turn that self loathing into gold", i.e to use your very real vulnerability to create something that may end up becoming a commodity within an indifferent industry. 
This song was inspired by Mulholland Drive, itself inspired by one of my all-time favourite films Sunset Boulevard.
17/08/2022 — OUT TODAY: HEART OF GLUE
The 2nd single & video from my upcoming album Colapso Calypso. 
I made this video using footage from riding my bike around the area I grew up in in rural northern Germany. I've grown so fond of it. 
The song is about moving on after grief, scars and all. 
"A heart of glue, no grand design, no truth. Just me and you, struggling through."
11/08/2022 — Long interview with Grrls Like Us podcast
I'm on the August episode of the Grrls Like Us podcast and we had a lovely long chat! My two song choices here were by Jetstream Pony and Penfriend and we chatted about the background to this album (David Lynch, subverting nostalgia, 50s Hollywood, grief, mental health, being a carer and so much more).
28/07/2022 — Track of the Day on Byte FM
Track of the Day on excellent German radio station
Byte FM
!  
They said some lovely things about Chorusgirl on air and on their website today. It's in German, but the gist is that Chorusgirl is more than the nostalgic sum of its 80s/90s influences; that I'm an introvert and that my songwriting and lyrics are filled with detail. No lies detected.
27/07/2022 — New music surprise!
'DON'T GO BACK TO '89' is the first single from my new album 'COLAPSO CALYPSO' (out 14 Oct on Reckless Yes, UK), which chronicles two upside down years of crisis & recovery.
Pre-orders are now open at: https://chorusgirl.bandcamp.com
This video was made by mega-talented Lucy Anne Watkins. This song is about being caught in an infinite time travel loop of wanting to save someone who cannot be saved. Hope you enjoy the video; pls share far & wide!
25/07/2022 — With the radio ooonnnnnnn…
A new song will premiere tonight on the German radio show Zündfunk (BR2) from 7pm CEST onwards; listen in here (works from abroad too I think): https://www.br.de/radio/bayern2/sendungen/zuendfunk
Love Zündfunk — they're one of the most supportive public radio shows for indie artists in Germany. 
If you have a radio show or podcast and like Chorusgirl things, feel free to get in touch (via the Contact page here).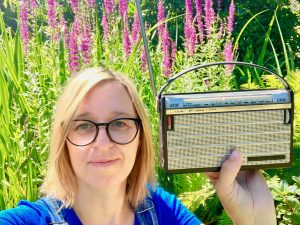 10/07/2022 — PR call
Hello, if you write about music & are interested in Chorusgirl things, please get in touch! I've emailed a bunch of you this week, but in case I've left you out and you're interested, lemme know (contact via the contact page here).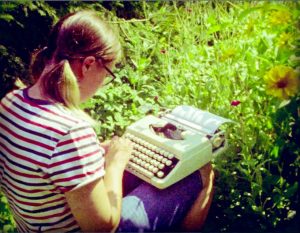 21/06/2022 — Home home
The countryside where I grew up. Didn't think I'd be living here again as an adult, but here we are. It's actually rather beautiful, and the most beautiful in June. Wheat fields forever…
17/06/2022 — CHORUSGIRL GOING SOLO
This note is a bit more of a personal message from me for those who are interested. 
I've become my Dad's carer as he has dementia. I'm still making music as Chorusgirl, but taking it back to its roots as a solo thing. I hope to be able to share more of myself again this year (incl music).
---
23/08/2020 — AT THE EDGE OF THE SOFA FESTIVAL
The Wedding Present's At the Edge of the Sofa Festival last weekend was such a fun and heartwarming watch with a stellar line-up and great chat in between the songs. I greatly enjoyed taking part.You can re-watch the Saturday at: https://youtu.be/8LEPv1UlNzk
If you missed it, you can watch me sing acoustic versions of two Chorusgirl songs at: https://youtu.be/jpl-esQRC8o
---
14/08/2020 — AT THE EDGE OF THE SOFA VIRTUAL FESTIVAL
Thank you so much to The Wedding Present for having me amongst the stellar line-up of this year's virtual version of At the Edge of the Sea –> At the Edge of the Sofa! I'll be playing stripped back versions of two songs

💜

💜

Details Here
19/11/2019 — GLASGOW WAS WONDERFUL
"Chorusgirl were flat out amazing and had left a lasting impact on the public of a city miles from home." — Thank you so much to Small Music Scene for the lovely live review of our set in Glasgow! We had a wonderful time in Glasgow; Cloth, Lemon Drink and Last Night From Glasgow made us all feel so welcome 
15/09/2019 — Nov support shows in London/Glasgow
Just two more gigs for us for the rest of the year as we're focussing on writing, but we're pleased to announce that we're supporting at these excellent occasions: 
14/08/2019 — IF NOT NOW WHEN FESTIVAL AND LONDON HEADLINE SHOW
Supporting the Wedding Present at their festival At the Edge of the Sea was truly wonderful last weekend –> our next gig weekend will be 13th/14th September: a London headline show at The Finsbury Sep 13th (free entry) and If Not Now When Festival in Oxford on Sep 14th!! 
15/06/2019 — AT THE EDGE OF THE SEA, SUPPORTING THE WEDDING PRESENT
We've got three shows booked this summer. Our next one will be August 10th, supporting The Wedding Present at At The Edge of the Sea in Brighton. I'm very excited about this one — I love The Wedding Present and the fest will take place at the beautiful Concord 2; every time I've walked along the beach in Brighton, I've peeked through the windows. It's Sold Out too, so will be a great night by the sea.
---
07/04/2019 — LONDON SHOW
We're excited to announce that we'll be main support for our label mates LIINES at their LONDON headline show at Thousand Island MAY 30th!!
Liines are currently touring the UK with Sleaford Mods, and we're really happy that we'll be doing a show together. They were so supportive when we became label mates. Tickets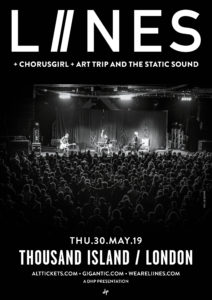 24/02/2019 — CROCROLAND FESTIVAL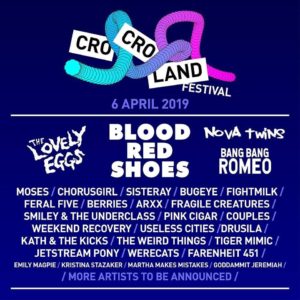 11/01/19: GERMANY TOUR
04/11/18: Thank you to Steve Lamacq for including us in his BBC6 playlists in such big company this week!!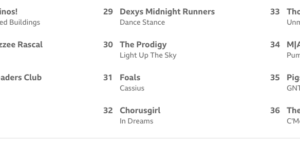 18/10/18: The video for 'IN DREAMS', our 2nd single from the NEW ALBUM, was premiered by God is in the TV zine as their 'VIDEO OF THE WEEK'!!!
Filmed by animator Ruth Barrett, "The handmade stop-motion video for 'In Dreams' consists of an impressive 2500 manually cut out paper prints".
11/09/18:  First single 'No Goodbye' from the NEW ALBUM is out now!
"A catchy earworm that retains it lyrical secrets until repeated listens, it's a sign that this new Chorusgirl LP will be worth investigating."
Clash Magazine have premiered the first single 'No Goodbye' from our NEW ALBUM 'Shimmer and Spin' out on Reckless Yes on 16th November, 2018!!!
And you can PRE-ORDER THE ALBUM at our Bandcamp
04/08/18: DEBUT LP SOLD OUT now
We've just sold our last copy of the debut LP, and very pleased to say that it has gone to a good home   We're getting ready for the release of album II now…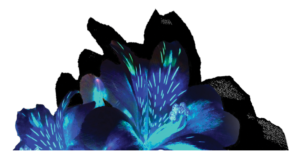 06/06/18: ALBUM PREPARATIONS
We're taking a break from gigging over the summer while Faith is away. But no rest for the wicked, as we're in the process of preparing for our album release later in the year.
We're pretty excited to have started working with fantastic animation and video artist Emily Scaife! You may have already seen the two beautiful videos she did recently for Lost Map band Firestations. If not, check out her work at http://emilyscaife.com
For the result of our collaboration, you're going to have to be patient, but here we are doing our first green screen shoot together…
06/05/18: BIG NEWS: We are very excited to announce that we have signed with one of the loveliest indie labels in the UK: RECKLESS YES !!!
Very happy to be joining the likes of Liines, Grawlix and Lorna and more on their expanding roster. Much like Fortuna Pop, Reckless Yes is a community and a family. And we're stoked that they've welcomed us into the fold to release our second album!!!
To celebrate, we're doing a couple of shows up North at the end of May: